Swaraj 724 4WD
swaraj

724 4WD

Swaraj 724 FE 4WD is the new 4WD tractor from Swaraj in the 18.64-22.37 kW (25-30hp) category. It is fitted with powerful & fuel efficient two-cylinder water-cooled engine. Its outer to outer width has been narrowed to 1120 mm which makes it highly suitable for inter-cultivation & orchard operations. Swaraj 724 FE 4WD comes equipped with host of features like Highest PTO power in the segment, Dual PTO, 4WD axle for better stability & pulling power, power steering, side shift gearbox with wide platform for operator comfort & safety etc.
At a Glance
No. Of Cylinder : 2
Power Category : 18.64-22.37 kW (25-30hp)
Engine : 1823 cm3
Brakes : Oil Immersed type disc brakes
PTO r/min : 540 r/min, 540E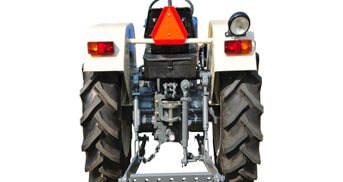 Rear track width - Suitable for intercultivation crops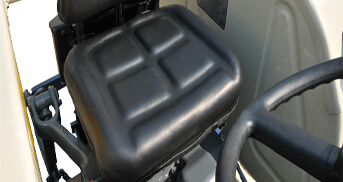 Comfortable driver seat with better suspension
Power: 18.64-22.37 kW (25-30 HP)
Type 4 Stroke, Direct injection, Diesel engine.
No. of Cylinders 2
Bore and Stroke 100 X 116 mm
Displacement 1823 cm3
Engine Torque: 114 Nm
Rated Engine Speed 1800 r/min.
Air Cleaner Dry type , Dual element with dust unloader
Cooling System Water Cooled with No loss tank.
Clutch: 10" single diaphragm clutch
No. of Gears: 8 Forward, 4 Reverse speeds
Brake type: Oil-Immersed multi disc brakes
Steering type: Balanced Power steering
Hydraulics: Live Hydraulics with ADDC
Lifting Capacity: 750 kg at lower link ends
A) Position control: To hold lower links at any desired height.
B) Automatic draft control :To maintain uniform depth
Linkage 3 point linkage suitable for Category- I &II type implements pins
Isolator Valve for operating remote cylinder & acts as transport lock
Front Tyre: 6 x 14
Rear Tyre: 8.3 x 24
Electricals: 12 V, 100 Battery starter motor & alternator
Instruments: Digital instrument cluster
O.A. Width: 1120 mm
Min. ground Clearance: 285 mm
Wheel track "Front": 955 mm
Wheel track "Rear": 880 mm

IT'S EASY TO JOIN THE SWARAJ FAMILY
Start your journey with our nearest Dealer as per your current location.
Change Location