About Us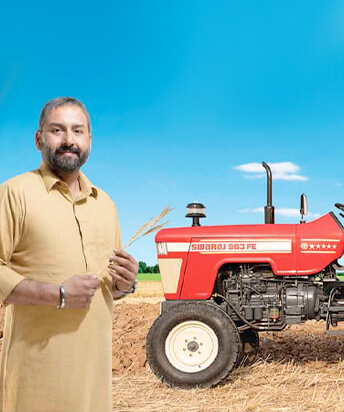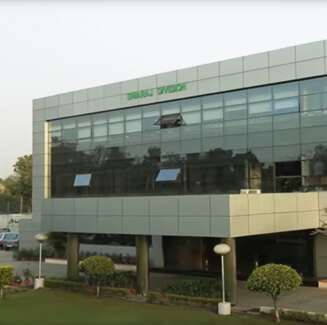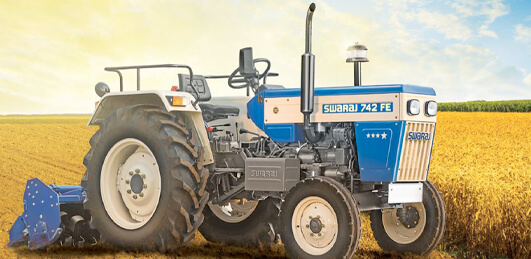 Swaraj Tractors was established in 1974 with a mission to be self-reliant and develop India's first Indigenous tractor. Today Swaraj is a rapidly growing company, has a wide portfolio of tractors and farm machinery, and stands firmly amongst the top tractor brands in India. We manufacture a range of tractors from 15Hp to 65Hp for various farming needs including 4WD tractor for wetland & specialized tractors for horticulture. VIEW MORE
Our Combine harvesters and specialized agricultural implements like potato planters etc. are in huge demand as these facilitate the farming processes and enable increased output. Swaraj has long been a favorite with farmers for its power, reliability, high performance in extreme conditions, low maintenance cost, high resale value and long life.
Ever since its birth in 1974, Swaraj Tractors has come a long way, winning the hearts and trust of every farmer with its matchless power and superior performance. Its success is attributed to the hard-working engineers at Swaraj, majority of whom are farmers themselves. Swaraj isn't just a tractor for these farmers, it's an indispensable part of their families. It has stood by him, through every situation in life. This is why when Swaraj brings joy and prosperity in their lives, every farmer's heart swells with pride to proclaim, "Mera Swaraj".
Our uniqueness also lies in the fact that we also have our own foundry for heavy casting, a captive engine manufacturing facility, machine shops, precision manufacturing capabilities, best-in-class captive engine plant, and two assembly plants. In 2007, Swaraj became part of the Mahindra Group. In 2012, we became the 2nd company in the world to win the Prestigious Deming Prize. In 2013 we won the TPM Excellence Award from Japan Institute of Plant Maintenance. In 2018, we achieved another milestone with the roll-out of our 15th Lakh tractor.
Our greatest satisfaction lies in bringing smiles to over 1.5 million farmers and hearing them say 'Mera Swaraj'.
VALUES THAT GUIDE OUR ACTIONS TO ENSURE GROWTH
Professionalism
To achieve a desired output, we have always believed in getting relevant people on board. We acknowledge innovation, fresh thought process and hence, to enable an overall growth, we also give our people the freedom to explore beyond the routine.
Good Corporate Citizenship
We are an ethics-driven organisation and have always believed in carrying out a business that has a larger goal. Improving the society at large and working for our community's welfare is what our focus lies on.
Customer First
At Swaraj, we follow an internal metric called the "Customer as Promoter Score", which measures the success of our business by understanding how customer-centric it is. The vision was to create and sustain a positive customer experience.
Quality Focus
Quality is the central point of our business. We don't just extend it in our products but also our actions and communication. Every business unit has its unique strategy of achieving the goals while ensuring that quality is never compromised.
Dignity Of The Individual
We strongly believe that every person contributing to the business is our pillar. We acknowledge the time and effort each individual brings to the table. And hence our policies are also formulated keeping in mind their betterment.
Our Purpose
We've made humanity's innate desire to Rise our driving purpose. We challenge conventional thinking and innovatively use our resources to drive positive change in the lives of our stakeholders and communities across the world, to enable them to Rise. Swaraj believes in simplicity in whatever we do which enables us to be agile and deliver customer delight. This is why we exist, come to work every day, and strive continuously in delivering our promise.
Challenge Conventional Thinking
One rule that fuels us - we don't believe in limitations. We take our problems as challenges which then help us grow at a broader level. In order to achieve the same, we move beyond the problem and put in all our efforts to find possibilities.
Innovative Use of Our Resources
Problem solvers, that's what we call ourselves. Every resource at Swaraj constantly strives towards coming up with innovative thoughts and approaches that help us move forward.
We Enable Our Stakeholders To Rise
Quality is core! Whatever we create, we believe that it is quality that has the potential to transform people. It's not just mere business for us. We persistently innovate to offer value to our customers and communities so they Rise for good.
COMMITMENT TO EXCELLENCE
Continuous innovation, upgradation and efficient use of our resources
Swaraj becomes the second tractor company in the world to win the prestigious DEMING Prize - organization that has implemented TQM suitable for its management philosophy, scope/type/scale of business, and management environment.
GIVING BACK TO COMMUNITY
Together we grow, learn and make this world a better place for each one of us