Made Cancer Care Accessible through Mobile Health and Palliative Care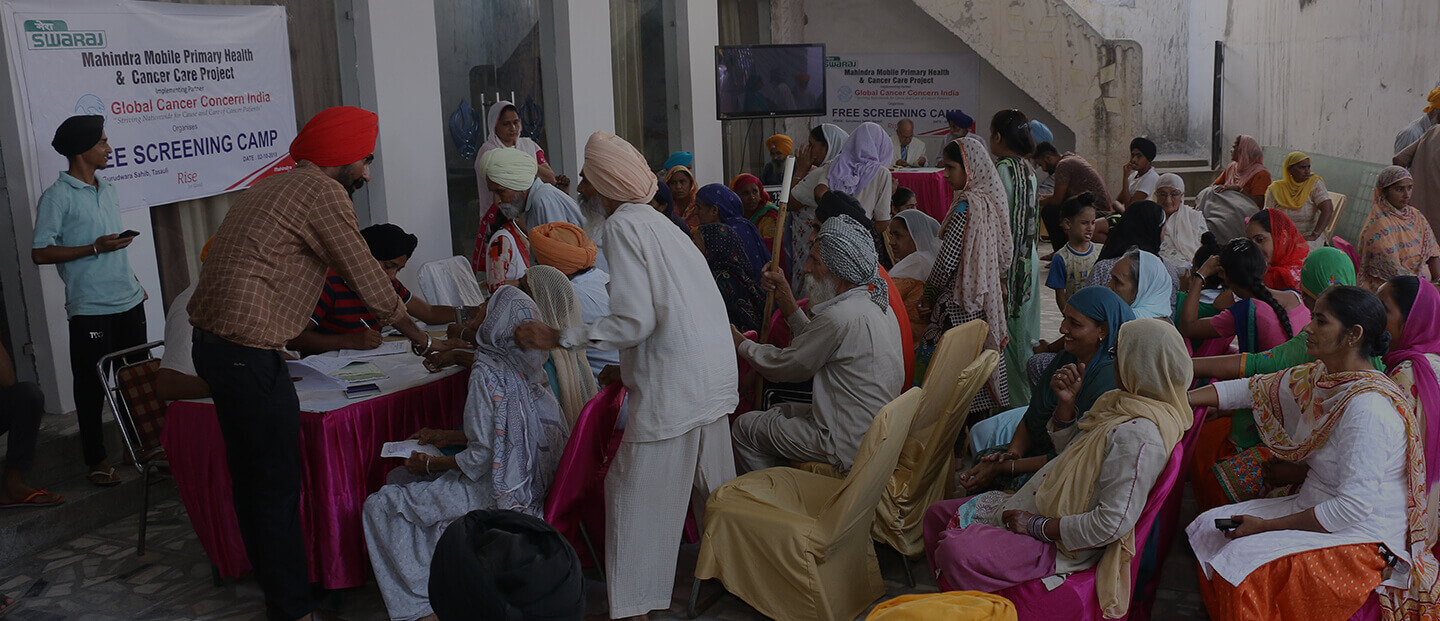 Mahindra Primary Health and Cancer Care Project
An initiative that created Cancer Awareness and Screening Camps for early detection along with Palliative Care units across tri-city villages of Punjab.
Made Cancer Care Accessible through Mobile Health and Palliative Care
Cancer is one of the notable health challenges in Punjab. It is important to know the patterns of cancer, which type of cancer occurs where and if possible, how much and to what extent. A study of National Wage Loss from Cancer showed that 91 percent of households in Punjab suffer a loss of income or rise in expenses as a direct result of a cancer diagnosis. For some, these pressures become a "perfect storm" leading to serious financial distress or severe hardships that some families never recover. Cancer patients in the state are higher than the national average of 80 per 100,000 population, reveals a survey by the Punjab government
Considering the above facts, Mahindra and Mahindra Swaraj Division took a measure by starting "Mahindra Primary Health and Cancer Care Project" in January 2015. "This is the standalone project in North India which addresses the care of the terminally ill cancer patients, as it becomes a huge burden for the family to bear the time and cost involved in palliative care. Additionally it also addresses the need of awareness on signs and symptoms of cancer and facility for early detection through a dedicated team of Project Officer, MBBS Doctor, Trained Nurse across tri-city villages for palliative care.
Implementation Partner and Project Outreach The project is being implemented in partnership with Global Cancer Concern India, a national NGO, intensively involved towards the care and support of cancer effected population and their dependents. The project in its first phase through the preventive and curative treatment had helped the beneficiary in raising awareness about the cancer disease, its causes and symptoms and reaching to the terminally ill patients through Palliative Care. The project in the first phase (2014-17) was implemented in 30 villages of the SAS Nagar District of Punjab and subsequently second phase (2018-21) it has extended its reach to more than 122 villages of three districts of Punjab ( Patiala, Bathinda & SAS Nagar) through the following components:
Palliative Home Care: Palliative Home Care is an approach that improves the quality of life of patient and their families facing the problems associated with CANCER and other life-threatening illness, through the prevention and relief of suffering by means of early identification and impeccable assessment and treatment of pain and problems –psycho-social, social and spiritual.
Health OPD through Mobile Van: Conduction of Curative camps through weekly Mobile OPD Van in the project villages through specialized medical team.
Cancer Awareness Camps: Cancer Awareness Camps in the villages and project area for sensitizing people on ill-effects and causes of the cancer
Cancer Screening Camp: Cancer Screening Camp in the project villages for identification of the cancer patients